And At These Fine Independent Bookstores:
Los Angeles: Skylight Books, 1818 N. Vermont Ave.
Los Angeles: Book Soup, 8818 Sunset Blvd.
Long Beach: Gatsby Books, 5535 E. Spring St.
Ventura: Bank of Books, 748 E. Main St.
San Francisco: Green Apple Books, 506 Clement St.
Cleveland: Visible Voice Bookstore, 1023 Kenilworth Ave.


Get it for the Amazon Kindle

Get it for the Apple iPad

Get it for the Barnes & Noble Nook

Get it for the Kobo Reader


Retailers:
The book is available through Ingram, B&T, and other wholesalers.


ISBN 978-0-9910257-0-1
MSRP $17.99 (paperback), $8.99 (E-Books)
482 pages, 6x9"
Distributed by Itasca/Ingram/B&T/Brodart/Follett
FICTION / General
FICTION / Action & Adventure
ART / Performance



Let your Two Performance Artists freak flag fly! We've got customizable men's and women's T-shirts & trucker hats—change the style, color, and size to fit your taste! And if you love performance art, don't miss our PERFORMANCE ARTISTS DO IT WITH DUCT TAPE bumper sticker!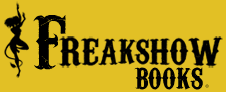 HOME | WATCH TRAILER | READ EXCERPT | PRESS | ABOUT SCOTCH | TOUR | FAQ | BUY IT | CONTACT
CREDITS | TERMS OF USE & PRIVACY W W W . F R E A K S H O W B O O K S . C O M © 2013-2020 FREAKSHOW BOOKS LLC, ALL RIGHTS RESERVED